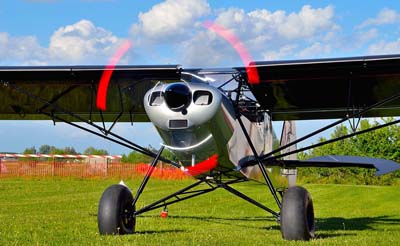 Originally we knew this taildragger as Savage (only it wasn't "savage" at all). It became iCub and cleverly used iPads and iPhones as instrumentation as those devices became so much more capable.
For 2017, enter "the Shock options." Specifically this means a whole collection of desirable qualities for those seeking a true outback aircraft. Logically, then, the new model from Zlin and sold by Sportair USA is the Outback Shock.
Large Alaska tires at the end of long-extending shocks plus auto-adjusting slats and double Fowler flaps provide the magic while a 180-horsepower Titan provides awesome motive force. To get the whole story, check this video.
Since it was first seen by Americans, then often called the "Carbon Sting" in a reference to its majority carbon fiber construction, U.S. pilots have loved the sleek and capable StingSport. With more than 500 flying worldwide, this airplane is well proven and improves on similar models in operation since the 1990s. TL-Ultralight, the Czech-based manufacturer, has produced approximately 1,200 aircraft.
In 2007, they introduced the TL-3000 composite high-wing LSA (bottom photo) that maintains the sleek look of the StingSport (at right). And in early 2009, SportairUSA added the greatly enhanced Sting S4.
Special Light-Sport Aircraft sold by SportairUSA come exceptionally well equipped with a standard equipment list strong on safety items — an airframe parachute and seat-belt-based airbags — as well as avionics such as the deluxe panel-mounted Garmin 496 GPS and the innovative Straight & Level button. Given StingSport's excellent performance and handling it is no wonder the company's motto, proudly stated, is "Fly Safe, Fly Fun!" It seems easy to do in a StingSport.
SportairUSA is the North American distributor for StingSport. The Arkansas-based business has established a dealer network around the U.S. and Canada that is able to show, sell, and service your new StingSport. In a time when Americans enjoy many Light-Sport Aircraft choices, those with the best companies backing them are destined to be the most popular with discriminating buyers. Based on its forthright business practices, Sportair USA should be seriously considered by any new customer.