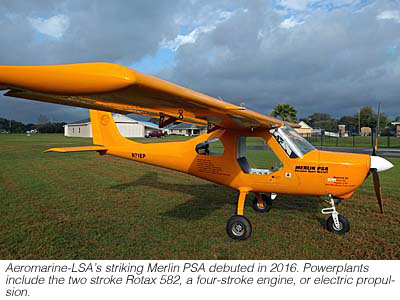 Singlehandedly, Aeromarine-LSA is making light aviation affordable using the philosophy -- and financial reality -- that a single seat aircraft can be far less costly than a two seater. "With all the money you save buying Merlin PSA or Zigolo, you can rent a two seater on those occasions when you need one," said proprietor Chip Erwin.
Merlin PSA (Personal Sport Aircraft) is the newest member of Aeromarine-LSA's growing family of highly affordable aircraft.
Merlin was introduced to Europeans at the German Aero show a couple years back and was warmly received. However, it was held back by using an engine unfamiliar to many. Given his long experience in the Light-Sport field, Chip brought a trio of powerplants to Merlin, starting with the well-known Rotax 582.
In addition to the Rotax 582, Aeromarine-LSA has been working dilgently on a four-stroke engine option and has nearly completed work on a highly innovative electric propulsion system to include special battery cells and related components.
Merlin boasts a cruise speed of 120 mph (104 knots), has a roomy cabin and offers an interesting set of possibilities including a four stroke engine, an electric propulsion option, and amphibious floats. Other options that may prove popular include glass instrument panel choices, autopilot, and a BRS emergency airframe parachute.
Base priced at only $34,900, Merlin PSA is an exceptional value. With its standard 65 horsepower Rotax 582, Merlin PSA is also a stunning performer.
Perhaps most remarkable is Merlin PSA's excellent price point. Merlin PSA is advertised at the very modest cost of $34,900 for a finished kit and building it is said to be swift with a builder assist center in central Florida.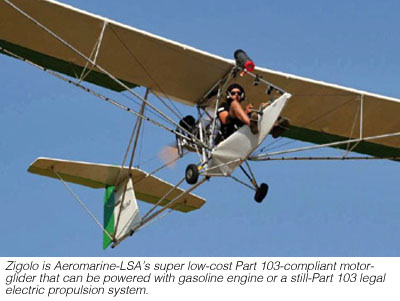 Like Zigolo, Merlin PSA is a kit but either can be built in a remarkably few number of hours and you can do either at their builder assist center in central Florida.
The Aviad Zigolo MG12 is an SSDR motor glider designed and manufactured in Italy offering an alternative flying experience. (SSDR is a European term for very light aircraft and means Single Seat De-Regulated.)|
Represented by Chip Erwin, the man who created the very successful SportCruiser LSA, Zigolo is another exceedingly economical choice. For those who say you can't buy an airplane for less than $100,000, how about one for well under $20,000?
Chip can do even better that that. He reported, "Zigolo is a dual-purpose ultralight and motor-glider with prices starting at only $12,000."
Zigolo easily qualifies for Part 103's 254-pound empty weight limit with pounds to spare; empty weight is listed at just 225 pounds! This fact allows a battery-powered electric motor as a practical alternative. Yes, electric and Part 103-compliant!
Zigolo offers enjoyable slow flight characteristics combined with a very short landing and takeoff distance (120-150 feet) that permits it to operate from the smallest airfield. The aircraft was specifically designed for simple construction and low cost of ownership.
Aeromarine LSA sells it as a complete kit for around $15,000 including the engine. Build time is only 100 hours. For pilots anxious to fly rather than build, you can choose the Almost-Ready-To-Fly option, referring to a finished Zigolo that has been disassembled and packed in a single easy-to-ship crate. Use a pictogram assembly manual and put it together in an afternoon.
Zigolo is constructed from a traditional tubular frame structure and simple bonded fabric covering creating a robust design. It incorporates such features as a pilot cockpit protected by the fuselage frame work and has an exceptionally wide field of view. Zigolo's rear mounted pusher engine with propeller and the fuel tank are contained within the airframe resulting in protection for the pilot. Additionally, a shock-absorbing undercarriage and the impact skid beneath the pilot's seat further protects the occupant in cases of heavier than normal landings. Topping off the safety qualities, a Comelli compressed air-deployed rescue parachute system is included as a standard item for emergency use.
Zigolo flies in a speed range of 22-46 MPH, take off in 120 feet, climb with the 25 horsepower Vittorazi Moster 185 engine that includes propeller and quiet exhaust system.
Among the best news for Zigolo ... no pilot license is needed, no N-numbers are needed, no medical is needed and you have more freedom than in almost any aircraft.